Meet Our Staff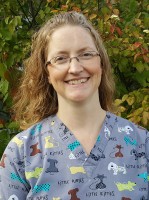 Dr. Jenna Canino, DVM & Owner
Dr. Jenna Canino is a graduate of the University of Wisconsin Madison School of Veterinary Medicine and is an active member of the national and state Veterinary Medical Associations. She regularly attends conferences to keep abreast of the rapid advancements in veterinary medicine. The team'™s goal is to provide exceptional care for your pet while taking the time to educate you about your health care options.

When Dr. Canino is not working to care for your pets, she is a busy wife and mother of two young children; Frank and Mira. When she has spare time, she enjoys gardening and being outdoors. She has two cats at home named Baby and Romeo.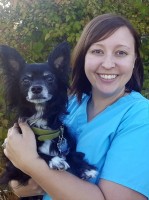 Jackie, Receptionist
Jackie joined the Sherwood Animal Hospital team in February of 2015. She has been working as a veterinary receptionist since graduation from UWGB with a bachelors degree in fine arts in 2003. She fell into the position and loves working in this field!

Jackie and her husband Jeff moved here from the Chicago area in 2015. They share their home with their fur babies, Sergio and Ping. In her spare time Jackie enjoys painting, drawing, and taking care of her succulents. "Go Cubs Go!"
Becky, Receptionist
Becky grew up on a small dairy farm in Wittenberg, WI. This is where she found her love for animals. In high school she was a member of Future Farmers of America. After high school, Becky worked a few different jobs before applying to the NTC Wausau campus's Veterinary Science program. Becky graduated in 2018 with an Associate Degree of Applied Science in Veterinary Science. Becky married her husband, Joe, in 2018, who took a job in Neenah. They recently bought a house in Greenville where they hope to reside for many years to come. Currently, they have 2 cats; Freddie and Ludwig. Becky started with us in February 2018 as a receptionist.

In her spare time, Becky enjoys learning how to play the drums, cooking, cleaning and hanging out with friends and neighbors.


Sherwood Animal Hospital
N521 Knight Drive
Sherwood, WI 54169
Phone: 920-989-3200
Fax: 920-989-3203